Self Diving Tips in Uganda: (Budget Self Drive Car Hire in Uganda?)
Self Driving Tips in Uganda are Carry a GPS to locate your location, carry a road map, determine the car type. Self Driving Tips in Uganda are the Best guidelines to follow to enjoy Self Drive in Uganda.
Uganda is a beautiful country to explore and adventure by all travelers from all over the globe interested in watching wildlife animals, safari destinations in Uganda. Some of the self driving tips include;
7 (Best) Uganda Self Drive Tips
Determine the Car Type to Use
As you are planning your Self Drive Safari to Uganda and neighboring countries, we recommend you hire a perfect 4×4 Car Type that fits into your budget to all safari destinations of your choice.
The appropriate Car Rental Options we have range from Toyota Rav4s, 4×4 Land Cruisers, Mini Vans, Toyota Hiace. These are chosen according to the preferences of the travelers.
Consider the Fuel to Use
Before your Self Drive Safari, we advise you know the Fuel you want to use and the Petrol stations you prefer to use in Uganda.
There are two Petrol stations in Uganda that can be used i.e Toyota and Shell stations that offer fuel at busy Towns and stops.
Carry and Use a GPS/ Google and Travel maps
When travelling on Self Drive in Uganda and any neighboring country we advise you use a GPS or Google map/ travel map to help you reach your preferred safari destination at ease. These help find your destination as it shows you the point where it is located.
Use 4×4 Air Conditioned Cars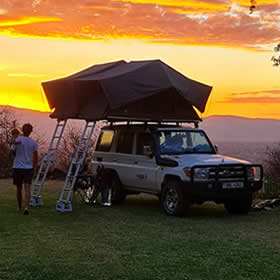 On your Self Drive Safari we recommend you use 4×4 Air Conditioned Cars to make your transfers very comfortable. When your car is Air Conditioned, it makes it convenient for you to transfer to dry hot areas like Kidepo with ease from one point to another.
Consider Travelling with a Fridge not a Cooler Box
When transferring on self drive safaris in Uganda and other countries, we advise you to carry a fridge instead of a cooler box. This keeps your drinks cooler even in hotter regions making the whole safari very comfortable and remarkable.
Hire/ Rent Car from Valid Car Rental Agencies
When planning a Self Drive Safari, Google to find reputable Car Hire/ Rental Agencies from which you can hire your car from to take you to any safari destination of your choice with friends and family. There are many valid Car Rental Companies that have worked in this field for quite long so contact them to offer you the Best Car Hire/ Rental Options.
Know What you Want
As you plan your Self Drive Safaris, we advise you know what you want i.e the type of Car and the specifications you prefer to suit your travel needs to any destination in Uganda.