Nyungwe Forest National Park Rwanda: (Chimpanzee Tracking Safari)
Nyungwe Forest National Park Rwanda is in the South West offering Chimpanzee Tracking Tours. Rwanda's Nyungwe Forest National Park is your Best Safari Destination to visit in Rwanda.
The Park is located South West of Rwanda along the border with Burundi's Kibira Forest National Park, Lake Kivu and the Democratic Republic of Congo in the East.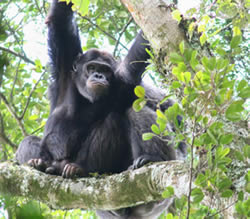 It is situated in the water shed of River Congo with biodiversity ranging from rainforest, bamboo, grassland, swamps and bogs with Mount Bigugu within the Park and Cyagungu being the closest Town.
The Park has primates with the Chimpanzees being the most prominently tracked in the Cyamudongo Forest which is situated just a few kilometers from Nyungwe Forest. Other primates you watch include; Ruwenzori colobus, L'Hoest's monkey, Silver monkey, Golden monkey, Hamlyn's monkey, Red-tailed monkey, mona monkey, Vervet monkey, Olive baboon, Grey-cheeked mangabey.
When to Visit the Park
The Park can be visited any time around the year although the Best Time to visit the Park is during the short Rainy and Dry Season since during this time, the Chimpanzees are on ground not in the tree branches.
How to Get to the Park 
The Park can be accessed by use of both Road and Air depending on the preferences of the travelers.
Things to do in the Park
The Park has numerous Safari Activities to do and these include;
Chimpanzee Tracking
Bird Watching
Canopy Walks
Hiking and Nature Walks