Bwindi Forest National Park Uganda: (Budget Gorilla Trekking in Uganda)
Bwindi Forest National Park is located in the South Western Part of Uganda offering Gorilla Trekking Safaris. Uganda's Bwindi Forest Park is your Best Safari Destination to visit in Uganda.
Bwindi Forest National Park is located in the South Western part of Uganda and prominently known to offer amazing Gorilla Trekking safaris as travelers get an opportunity to track and watch the Mountain gorillas in their natural forest vegetation habitat.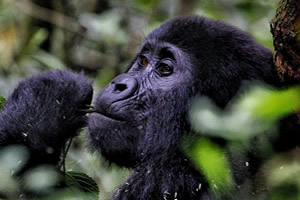 The Park has 12 habituated Gorilla Groups that are tracked here making Gorilla Trekking the most prominent Safari Activity carried out here.
The trekking process involves going to the Park headquarters for briefing on the Dos and Don'ts then later in groups of 8 with a skilled park ranger guide penetrate the forest vegetation to track the Mountain Gorillas for 3-5 hours depending on the location of the Gorillas and when you meet them only an hour is allowed in their presence taking photos to keep for memories.
When to Visit the Park
Bwindi Forest Park can be visited any time around the year although the best time to visit the Park is during the short rain and dry season since during this time the Paths are navigable, photography is clear, and the Gorillas are freely moving throughout the forest vegetation making the trekking process so enjoyable.
How to get to the Park
Bwindi Forest Park can be accessed by use of either Road or Air Transport depending on the preferences of the travelers.
By Road; Travelers can transfer from Kampala to the South Western Direction in Uganda via Kabale then later you reach the Park.
By Air; Travelers can board a domestic flight from Entebbe International Airport/ kajjansi Airstrip to Kihihi Airstrip where you are picked up by our driver guide to Bwindi Forest Park.
Things to do in the Park
Bwindi Forest Park has numerous Safari Activities travelers can do with friends and family and these include;
Gorilla Trekking
Bird Watching
Cultural Encounters
Hiking and nature Walks
Biking/ Cycling